Contest Website for Astral Media to Makeover Your Man!
SERVICES PROVIDED:
Strategy
Website Design
Contest Engine
Print Design
Coupons
Astral Media teamed up with our Toronto design studio to create a campaign for Joseph Abboud clothing. Together we created a contest website featuring radio personality Humble Howard and broadcast the campaign nationally inviting listeners to go to our website for a chance to win!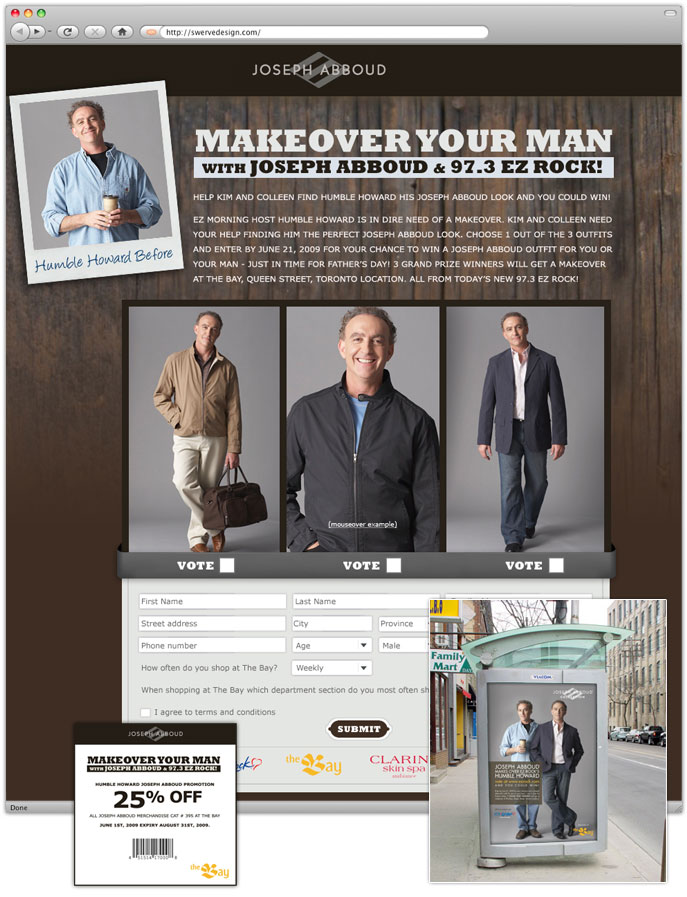 Swerve launched the Humble Howard, "Make Over Your Man" contest with a great website design. Astral Media wanted an online campaign to round out their on-air and outdoor marketing for the Joseph Abboud clothing line launch in Canada. Swerve directed a photo shoot of 97.3 EZ Rock Radio personality Humble Howard for his makeover and used the before and after photos to create Transit posters and a microsite. Users voted for the best outfit and entered to win their own make over.
"I have turned to Swerve Design for help on many projects. Through their dedication and commitment they not only provide innovative solutions but deliver incredible and trackable results. I always look forward to the opportunity to work with Swerve Design – it's an award-winning partnership!"
Jeff Levine
Lets talk about your project!