September 19th, 2012
Direct Mail Design for Association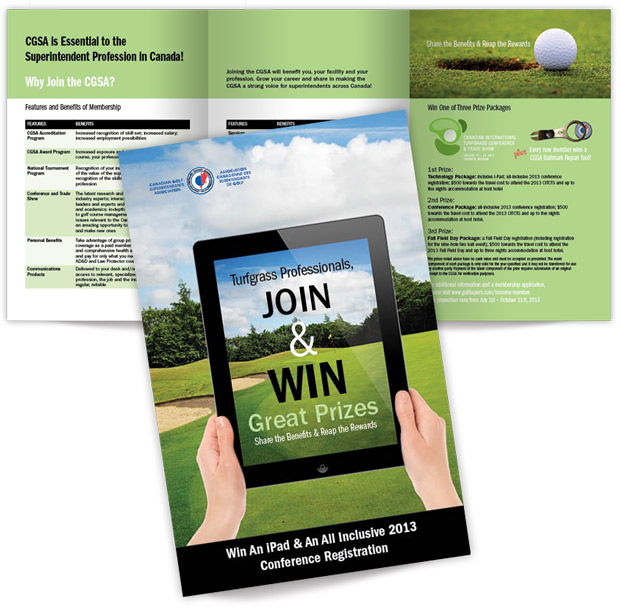 We designed a new direct mail piece for the Canadian Golf Superintendents Association. This piece took advantage of variable printing so we could customize the cover of each brochure to include the recipients name.
Just another example of the Toronto based Swerve Design Group's design expertise.
January 12th, 2012
Direct Mail Campaign for Conference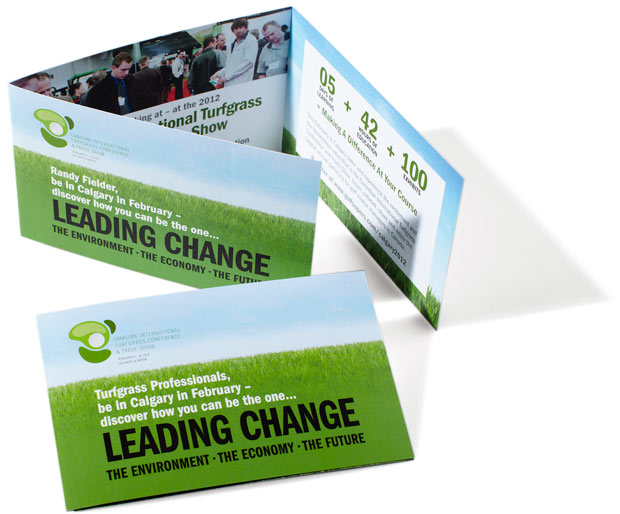 This direct mail piece was designed to promote the upcoming Golf Superintendents annual Turf Grass Conference. Using variable printing each brochure was customized with the recipient's name on the cover. Studies have shown that using this technique increases the success rate of direct mail campaigns.
November 1st, 2011
AMCTO Catalogue Design 2011-2012
Shown is the cover design for the 2011-2012 AMCTO Catalogue.
October 25th, 2011
10 Things We Have Learned About Creating Non-profit Association Websites
We were asked recently to put together some tips of what we have learned designing web sites for non-profits that could be applied to other non-profit communications projects. Here are some of our tips:
1. It's not about you – its about your member/donor
2. Design backwards, start with the end goal
3. Listen. Listen to supporters and staff
4. Find your own unique voice
5. Celebrate your supporters!
6. Just because you build it, it doesn't mean they will come
7. Engage, engage, engage
8. Use opensource technologies
9. Do it right the first time (or at least this time)
10. Have a small committee, be decisive and communicate to rest of staff
And remember, launching your site isn't the end – watch your analytics, review and enhance your site.
September 15th, 2011
Booklet Design for Conference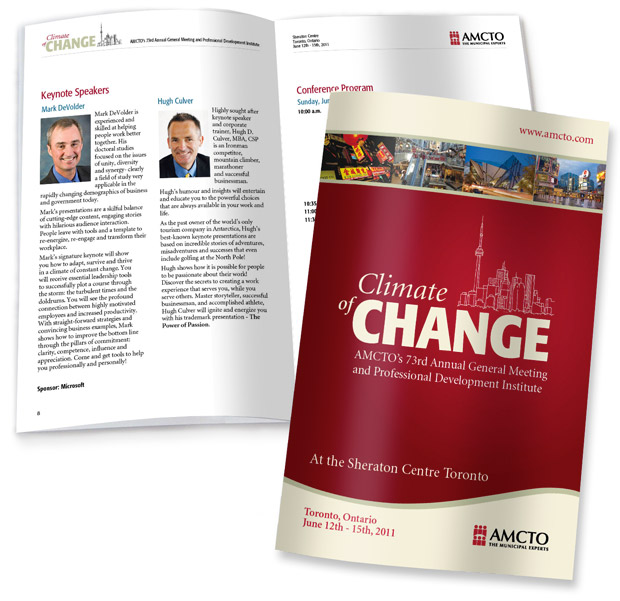 We have designed a number of booklets to be used by companies for their conferences. Always fun to come up with a theme and look to be used throughout the show. This one was for AMCTO's Annual General Meeting and Conference.
July 12th, 2011
New Web Site Design for CGSA
We are very excited to launch a complete redesign of the Canadian Golf Superintendents Association's Web Site.

Swerve has been working with the CGSA since 2002 creating many of their print publications. When it came time to rebuild their web site they turned to Swerve to help them relaunch their online presence to increase membership, provide more services to their members and streamline their internal processes for managing their members and finances. We built new member registration and renewal systems, event registration, ecommerce, buy and sell system, member credit system, integrated advertising and a custom robust reporting interface.
See the site at: www.golfsupers.com
September 15th, 2010
AMCTO Catalogue
Design of this year's AMCTO Catalogue included a new cover composed of several different photos along with the Association's logo to create a seamless image of an instructor giving a seminar. Swerve designed and produced all artwork and supervised the printing of this 48-page booklet.
June 4th, 2010
AMCTO Conference Booklet
Once again we had the pleasure of producing the onsite booklet for AMCTO's annual conference. This 44-page booklet featured a warm, friendly cover showing Muskoka chairs in a northern setting to go with AMCTO's event held this year at Deerhurst Resort in Huntsville.
August 14th, 2009
New Nurses Association Web Site for RPNAO
RPNAO is a professional association representing registered practical nurses across Ontario offering training, career counselling, recruitment and professional practice issues to their members.
We have worked with RPNAO for the past 8 years on what seems like hundreds of print pieces, so when it came time to update their member web site they naturally turned to Swerve as well. We designed a site that celebrated their members and encouraged new member registrations with huge success. Behind the scenes is a robust content management system with registration and newsletter systems so they can keep the site fresh and communicate to their members effortlessly.
"We have been really delighted with the work done by Swerve Design on our new web site. Many of our members have commented on how professional it now looks and how easy it is to navigate. In fact our membership numbers are up, even in these difficult times. Thanks!" said Dianne Martin, RPNAO's Executive Director.
See the site at: www.rpnao.org
February 2nd, 2009
Halifax Golf Show
Our latest graphic design extravaganza for the Canadian Golf Superintendents' Association will make you long for the feel of grass under your feet.
The 2009 Turfgrass Conference is being held in Halifax in March. For this years show we assembled several separate photos of grass, a golf flag, and East Coast ocean views for the cover. The final effect is a very realistic, but totally invented golf course by the sea.