Every designer has come across the same problem. A client gives us their logo to use on a project, but the logo just doesn't work in that application. You can't fit the logo in the space given or the magazine can't print that colour. After many years in the design industry we've developed these three simple rules for designing logos.
The Size Doesn't Matter Rule
The logo must work equally well at the smallest size as it does bigger than life on the side of a building. A quick benchmark is if you can fit your logo on the side of a pen and still read it, then you've got this rule covered.
The Black and White Rule
Most logos are used everyday in applications that reduce your options to either black or white: fax machines, photocopiers, black and white advertising. If your logo depends on colour to work, then your logo doesn't work.
The Is It Appropriate Rule
A logo needs to be appropriate to the company. If it is a law firm, it should look like a law firm. If it is a chicken farm, then it should look like a chicken farm. We're not saying that the logo has to be an illustration of the business, just that it should represent the mood or feeling of the industry and company.
The Design Process


Swerve will usually present three to four sample logos to select from and then work with our clients to finalize the selected design.
The above graphics show four sample logos for a yearly conference for the Golf Superintendents Industry. The logo at the bottom was selected for use.
Sample of a Logo Refresh by Swerve
Background: Not all companies want to completely rebrand their image with a new logo. Recently we were asked to improve the existing design for Martyn Bassett and Associates without completely redesigning.
Assessing The Old Logo: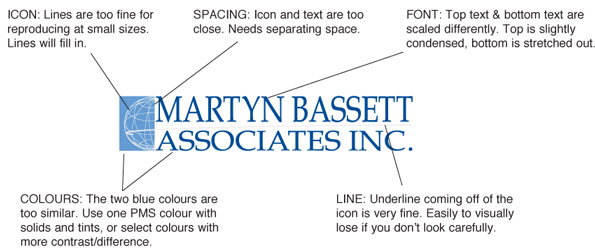 The New Logo: